Jurassic World: Dominion Dominates Fandom Wikis - The Loop
Play Sound
"Discover Starfield, the new space epic currently in development by Bethesda Game Studios. Starfield is the first new franchise in twenty-five years from the acclaimed developers of The Elder Scrolls and Fallout series." ― Description
Starfield[2] is an upcoming first-person role-playing single-player space-themed adventure game developed by Bethesda Game Studios and published by Bethesda Softworks. The game was formally announced during Bethesda's E3 Press Conference in 2018. The game is described as a wholly new, next-generation first-person experience set in an entirely new space-themed world. A short teaser trailer was shown with few details.[3]
Premise
[
]
300 years into the future, embark on an epic journey amongst the stars to answer humanity's greatest mystery.[4]
Development History
[
]
Starfield was originally trademarked on the 13th September 2013.[5] The game, however, was not formally announced until E3 2018 alongside The Elder Scrolls 6. Todd Howard confirmed that Starfield has moved out of pre-production and is in a playable state.[2] Howard further said, "We've [Bethesda Game Studios] been talking about it for a decade, we started putting things on paper five, six years ago, and active development was from when we finished Fallout 4, so two and a half, three years."[6] Bethesda maintains its own internal wiki for Starfield, to which all of their employees have access. These include histories, backstories, and starship architecture.[7]
In September 2020, Microsoft announced its acquisition of the parent company of Bethesda Game Studios, Zenimax, for $7.5 billion. This is the second most expensive acquisition of all time, second only to Tencent's buyout of Supercell in 2016 for $8.6 billion.[8] On March 8th 2021, the acquisition was approved in the EU.[9]
Space travel is considered "dangerous" in the sense of flight in the '40's within the game and inspiration has been sought from Elon Musk's SpaceX program.[2]
On February 23rd 2021, Bethesda Game Studios announced a charity auction for Make-a-Wish foundation where the prize was the opportunity to design a character for the game. The auction was won by an unknown bidder for $15.4k.[10]
The game's original release date of 11 November 2022 was announced in the official teaser trailer on 13 June 2021 at E3.[11] On May 12, 2022, Bethesda Softworks announced on their Twitter that they would delay Starfield until the first half of 2023.[12]
Gameplay
[
]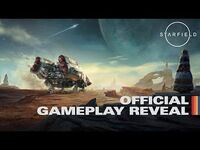 At release, Starfield will have 100 star systems and 1000 planets available to explore. Mechanics include crafting, base/ship/avatar customization, and unlockable skills.[13]
Features
[
]
The major features in Starfield are:[13]
Character Creation
[
]
The Spacefarer, when having their record located by Argos Extractors, is able to have a variety of pre-defined backgrounds:
Chef: "While the unrefined masses scarfed down Chunks by the shipload, you catered to those with a more... discerning palate. In your kitchen, countless alien species became true culinary masterpieces."
Combat Medic: "Leave it to human beings to fight over something as infinite as outer space. That's where you come in. You've never been afraid to take on the enemy... but you'd much rather take care of your friends."
Cyber Runner: "From Neon to New Atlantis, the megacorps stand as monuments to power, prestige, and profit. You've worked for and against them, on the inside and out, often sacrificing conscience for credits."
Cyberneticist: "Robots? Mere toys. Neuroamps? Good for parlor tricks. The Colony War may have made implants and upgrades available to veterans, but you once saw a greater future. Humans and machines, as one."
Diplomat: "The wars are over. Peace now reigns the Settled Systems. But only because there are those quietly fighting to keep it. Because of you, agreements were signed, words were heeded... lives were spared."
For more character customization options, see Character Customization.
Gallery
[
]
References
[
]